What is Odoo HR?
From hours worked to expense requests, HR Odoo supports your HR team in all their core responsibilities
Odoo HR helps you to manage them effectively, support them throughout their careers and encourage them to stay with you for the long haul. Odoo HR is a Human Resource Management System (HRMS) consisting of a suite of apps enabling you to deploy a highly tailored, utterly bespoke system for managing your staff. It can be used as a stand-alone application, or as part of a wider cross-company enterprise resource planning solution.
From hours worked to expenses requests, performance evaluation to recruitment, HR Odoo supports your HR team in all their core responsibilities.
Key Features
Odoo HR's features are designed to support ease of management for your HR staff, and to help you foster a collaborative working culture.
Management
Create a profile for each employee, ensuring that all vital information on each staff member is held centrally.

Manage contract for each employee, including status, job title, contract type and dates, and their schedule.

Manage timesheet for each employee, on a weekly, monthly or project basis.

Manage costs for each employee, including expenses submitted, travel costs and training allowances.

Hire for vacant positions by setting up a job board, tracking submitted applications and indexing all associated documents.

Oversee attendance for all staff members.

Evaluate performance immediately and long-term, set and track targets.

Manage holidays, legal leaves and sick days.

Intuitive dashboard for each manager for ultimate visibility.
Collaboration
Follow employees and documents to track and participate in projects.

Join and manage discussion groups.

Share files for collaborative working.

Chat in real-time.

Generate gamification through challenges, goals and rewards.

Set targets and objectives to drive engagement and reward performance.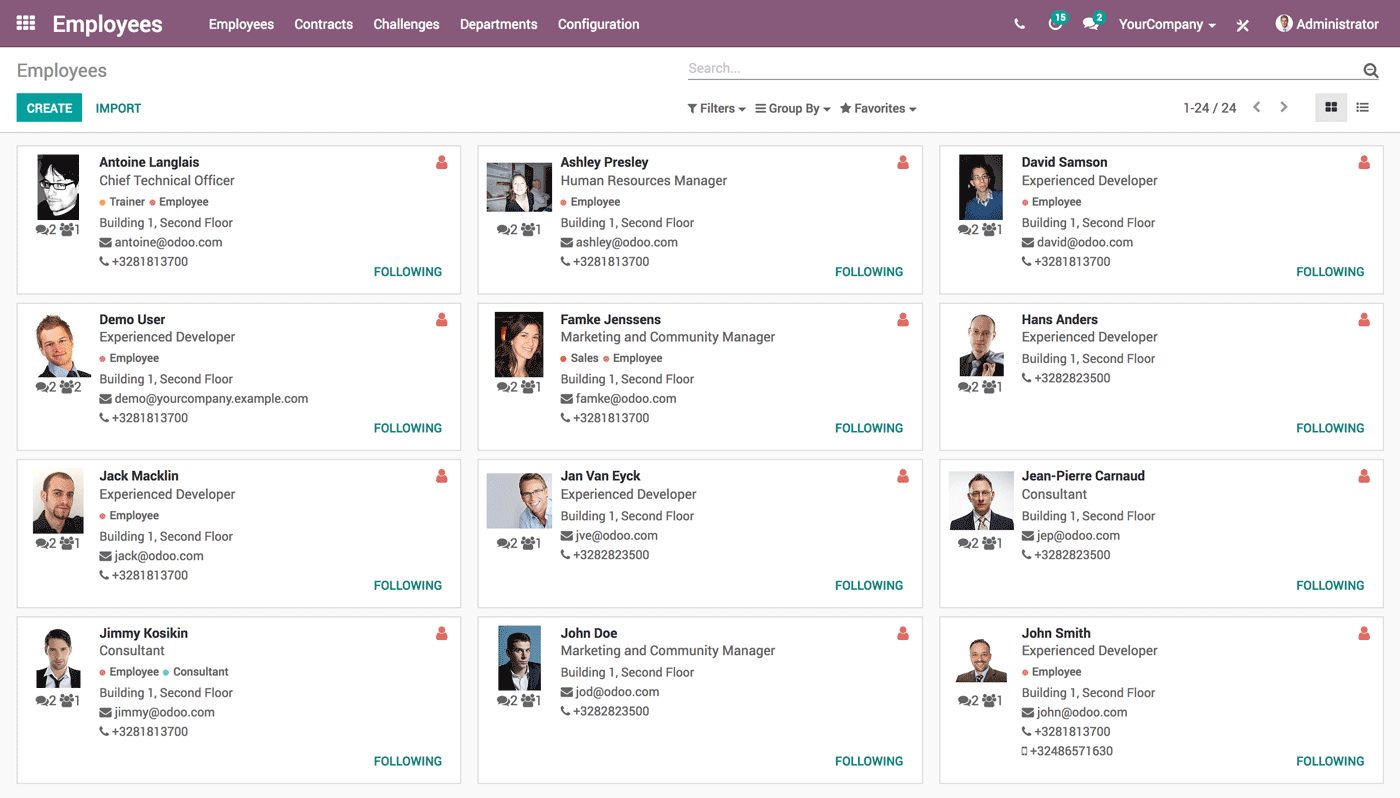 Benefits
Odoo HR generates benefits for your HR staff, your employees, and your business as a whole.
Your HR staff gain comprehensive and dynamic visibility of all employees, with centralised information that they can filter by department or team. This dramatically cuts down on manual and tedious data management tasks, improves accuracy and enables automation and standardisation of key HR processes. HR staff can set and track key parameters around individual employees, and all work from the same consolidated information source.
Your employees benefit from more efficient and standardised mechanisms for processes such as making leave or expenses requests or receiving sick pay. They gain the peace of mind that their attendance and other performance parameters are accurately tracked, and personal data is securely stored and managed. They benefit from improved collaboration through the file-sharing and instant chat features.
Your business gains a single in-depth view of its entire workforce, updated in real-time, filtered according to bespoke parameters and with all information standardised. Whether you wish to analyse the attendance or trajectory of individual or groups of employees, instantly access the key data on a particular staff member, or analyse the costs associated with specific employees, Odoo HR facilitates it.
Smart IT to help your business grow
Join us and make your company a better place.